That's right!
You read correctly!  Jeff Galloway donated 6-month session of eCoach with him to benefit Leukemia and Lymphoma Society as part of fundraising that we are currently doing.   If there are at least 100 entry, there will be TWO eCoach Session as a raffle prize!!
Yes.  THAT Jeff Galloway!!
I took advantage of this program myself when I completed 2014 Marine Corps Marathon 2014 and Dopey Challenge and LOVED it!!
Here's the detail of the eCoach by Jeff program (taken from his website)
____________________________________________________________________________________________________________________
Getting you to the finish line injury-free!  E-Coaching by Jeff Galloway
This Individual "E-Coaching" Program gives you a training program designed by Jeff and direct, priority access to him when you have questions or clarifications. Whether you just want to run without pain, or qualify for the Boston Marathon, we will provide you with 6 months of coaching support, a training program to your goals, and many other items. This program is for all levels of runners, including beginners.
Jeff's overall training philosophy is to provide you with a program toward your goals while "having a life", family, career. At every level, Jeff recommends lower mileage, fewer days per week, walk breaks. Over the years, over 98% of his participants have success in finishing marathons, and similar success rates at other distances.
Here's what you'll receive:
Jeff will work within your time available for training
He will help you set up a realistic goal
He will design a schedule to your goal
Weekly e-conferences, with fine tuning of workouts
Prioirity email access to Jeff
Train for a 5K, 10K, Half Marathon, or Full Marathon with Jeff's help!
Individual Training Program to the goal of your choice by Jeff Galloway
A copy of one of Jeff's books (Galloway Training Program, Galloway's Book on Running–2nd Ed. or Year Round Plan)
Direct email access to Jeff, for questions and clarifications, with priority
Free Monthly E Newsletter
Opportunity to ride on the Galloway Bus for the New York City Marathon start (if you are doing NY Marathon this year, this is HUGE DEAL!!)
Discounts on Fitness Vacations at Lake Tahoe Meet and run with other Galloway Members at races around the world
____________________________________________________________________________________________________________________
Here's what you need to do to be part of this awesome raffle:
Purchase a raffle ticket by donating to our Team Robel fundraising page at:  http://TeamRobel.us.
Raffle is $25 for 1 entry, or $50 for 3 entries
Please

do not

make your donation anonymous.   I need to know who you are so I can enter your name on the raffle
Write eCoach with Jeff on the comment section.
We will close the entry on April 12, 2015 at 6pm PST and will do the drawing immediately after
Winner will be announce on this blog, as well as receive email from us.   We will also do our best try to tag you via Facebook!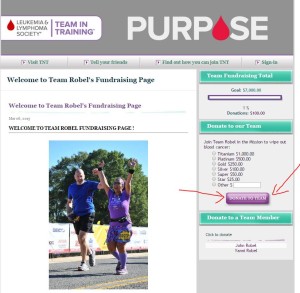 That's it!   Pretty simple!!
Thank you for supporting yet another effort of me to raise money for Leukemia and Lymphoma Society!
GO TEAM!