Wow. I'm still in an awe.
I'm a marathoner. I ran 26.2 miles. Well, I hobbled around the course with a sprained ankle. I ran, I walked. I ran and walked. For a long time. Very long time. But I finished. I was upright, smiling cheek-to-cheek, and wasn't the last one! It was awesome. It was victorious. It was absolutely fantastic. I am a marathoner.
Race Recap
The hotel wake-up call service woke me up at 2:30am. It took me another 30 minutes before I actually moved from the bed and started to get ready. I decided to wear my capri as supposed of my short, compression sleeves and a tank. It was a cool morning, about 40 degrees out. I had my throw-away jacket with me as well. About 4:00am – I was sitting on the bus and head out to Epcot.
Traffic were pretty heavy and it took us almost 30 minutes to get to Epcot from our resort. I was surprisingly calm. We walked for another 10 minutes from the bus stop to our race retreat tent and I checked my bag, used a porta-potty and started to walked to my corral. We walked for another 20 minutes to our corral. There were so many people around me! It was a full moon and it felt somewhat magical
The event started on time. Wheelchair racers were out exactly at 5:30am and before long, my corral started to move to the starting line. Exactly at 6:05am, they let our corral go.
I ditched my jacket before even hit mile-1. I was pretty warm. The first 3 miles went by pretty fast. We went towards the Epcot, around and went towards the future world-case and head out from the side, made a loop towards our corral. I felt great. Then I saw John at Mile 4.5!! I was soooo excited!! I blew him kisses and kept on running.
I stopped for at porta-potty at Mile 5, did my thing and kept going. We were running on the road that connect Epcot and Magic Kingdom, and I had to tell you – they put some interesting stuff for us out there. There's always sign about Disney-fact on the side of the road for you to read as you run (Do you know it takes 7 marathon length to go around all four Disney parks?) and there were Disney characters! I had my camera with me and able to snap pictures with a few of them.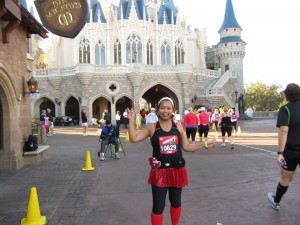 We came to Magic Kingdom from their staff entrance and put us directly on Main Street. When I made that turn to Main Street and saw the Cinderella Castle, I had to admit, that was very, very cool. I saw that castle the day before so it's not like that's the first time I saw it, but I had the same reaction with my daughter the day before. It was one of those "awwwww, it's the castle" reaction.
We went around the castle and under it, and out we were to the next park. I was feeling great. I paced myself well, about 2 minutes slower than my normal race pace due to my sprained ankle, tried to be cautious on how my gait and made sure that I did heel-toe inward on my stride.
Mile 12 came around, I suddenly felt a pull on my ankle. I had those 'uh-oh' moment for a second. I stopped. I stretched it a bit and massage the tendon towards my knee. My physical therapist warned me about this, so did my trainer. I stopped for almost 10 minutes and decided to kept on running, even with slower pace.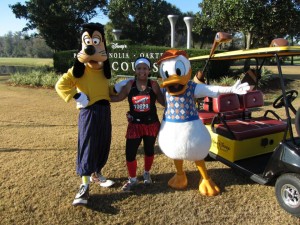 I hit the half-marathon mark and the sun was baking me! It was pretty warm! The stretch between Magic Kingdom and Animal Kingdom had a couple overpass, which mean, a hill. I was doing okay though, even though I can feel my ankle somewhat throbbing. No, shooting pain though so I kept going.
There so many tweets that came in between the 13-18 miles. I think it some point, between 15-16, that's all I hear. It was awesome. I was laughing. I was smiling. I was giggling!
Then I hit mile 22. Something changed. My ankle hurt more and more and I started to doubt myself. I never run more than 22 miles before. Ever. It was really a mind game. I had even more cheer-tweets. They were encouraging tweets. I stopped for a minute, tried to massage the tendon around the ankle again and kept running. I had so many people believe in me and I need to switch my mind set. I grabbed a couple Tylenol from the medical tent, and started to run again.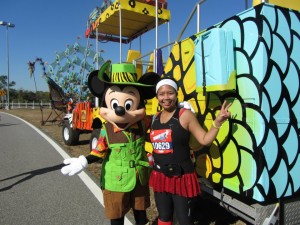 The last 4 miles felt very, very long. In fact, my runmeter app was 2 miles off as it already announced that I hit 26 miles when I ran past 24 miles sign! Talk about discouraging tweet! I started to get mad. I want it to be done.
We entered Hollywood Studio, and I ran past the entire Disney character there without taking any photo. I could careless about it anymore. I just want to be done! We ran through the boardwalk and headed towards Epcot and when I saw the Epcot famous ball from across the lake, I felt relieved. All I had to do just ran around the lake and head out, then the finish line would be there.
Um. Yeah. Turn out, when you just ran 24 miles, those lake at Epcot is HUGE. I kept hearing a tweets and I had to say, that's what kept me going. My ankle hurt every time my left foot hit the ground and my gait were completely off.
Mile 25.
People were cheering. There were so many volunteer, Disney staff and just some random people that happened to be in the park cheering us. I can see the Epcot famous ball closer and closer. I took a deep breath and started to increase my pace.
Mile 26.
Who would've though .2 miles could feel like 2 miles? OMG. My phone constantly read the tweets. Everybody excited. Heck, I was excited AND impatience. Who moved the darn finish line???
Then I turn in the corner, and I saw the finish line.
THE FINISH LINE
I almost sprint to it, but I remember that my husband and my girls were waiting for me at the left side of the finish line, so I started to look for them. Before long, I spotted them. I saw him waved and grin. I saw my girls with their 'I love you mama' sign, I saw my brother-in-law. My eyes started to tear up and I had the cheesiest cheek-to-cheek grin. I lifted both of my hand and cross that finish line.
When the volunteer put that medal around my neck, I started to cry. There was another runner who cross the finish line shortly after me broke down as well, and we ended up hug each other and cry on each other's shoulder. I didn't really catch her name other than she wore Team In Training jersey. I grabbed the gatorade, banana and some bagel and head out to the photo line, did my finisher photo and walked back to race retreat tent to meet the rest of my family.
I stretched, and ate some snack and I was impatiently waiting for my family. Then from across the tent, I saw my husband. I ran towards him (yes, I ran again after 26.2) and leaped to his arm and started to cry. All I said was "I did it. I did it"
I finished the marathon.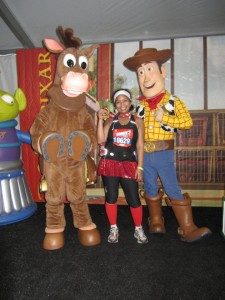 I had the same medal around my neck with the elite runner who finish first. That's the awesome thing about this competition. Every finisher have the same medal. We compete against ourselves, and on that race, I won.
I have a long list of thank you for those who supported me during this journey, first and foremost, I want to thank my husband, John. I know this is a public blog and yes, I have said these words in person, but I want to make an effort to say this again here.
Thank you, John — for everything you do. From waking up at the wee hours over the weekend, made sure I had my pre-run breakfast and ride your bike alongside me during every single one of my long run for hours to end to everything you did on the race day. YOU are my hero and my inspiration. I love you more than I can say with words.
To the rest of you — my family, my best friends, my SQL Family. There were too many names to mentioned, but you know who you are. Thank you for your constant support. For those encouraging words, for the giggles, and most importantly, for believe in me that I can actually do this.
You guys are an awesome bunch.